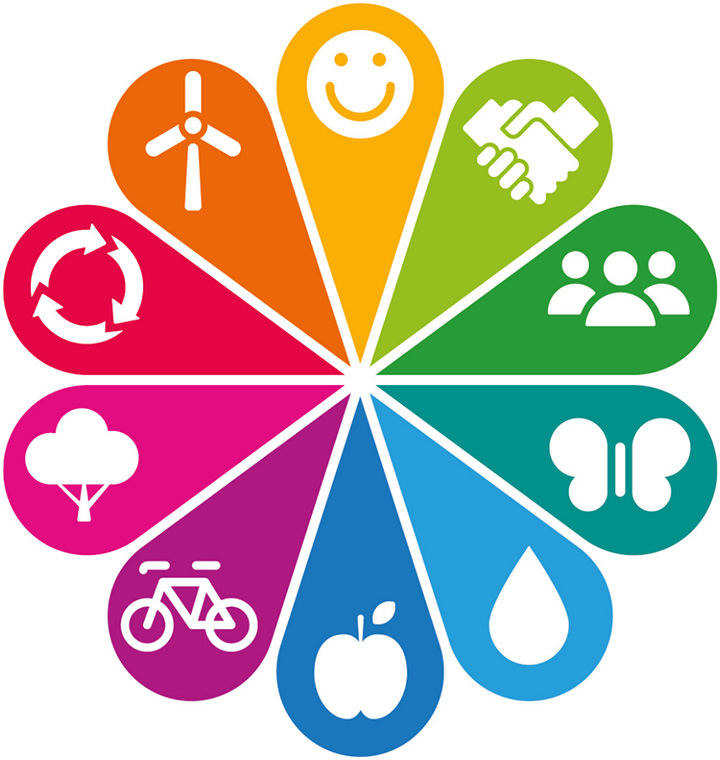 We are committed to delivering Harrington by applying the principles of the One Planet Living® sustainability framework, developed by the sustainability consultancy and social enterprise Bioregional with WWF in 2003.
Rooted in expert ecological and carbon footprinting analysis, One Planet Living comprises 10 simple principles that cover every aspect of sustainability and is used to design communities that enable people to live happy, healthy lives within the boundaries of our planet's resources, while leaving space for nature to thrive.
Supported by Bioregional, the Harrington team will use the One Planet Living framework to identify the unique social, economic, and environmental needs of South Oxfordshire and respond to them, with the aim of delivering a flagship for sustainable placemaking that is uniquely positioned as a catalyst for regional connectivity and innovation.

The 10 One Planet Living principles are:

1. Health and happiness
Encouraging active, social, meaningful lives to promote good health and wellbeing

2. Equity and local economy
Creating safe, equitable places to live and work which support local prosperity and international fair trade

3. Culture and community
Nurturing local identity and heritage, empowering communities and promoting a culture of sustainable living

4. Land and nature
Protecting and restoring land for the benefit of people and nature

5. Sustainable water
Using water efficiently, protecting local water resources and reducing flooding and drought

6. Local and sustainable food
Promoting sustainable, humane farming and healthy diets high in local, seasonal organic food and vegetable protein

7. Travel and transport
Reducing the need to travel, encouraging walking, cycling and low carbon transport

8. Materials and products
Using materials from sustainable sources and promoting products that help people reduce consumption

9. Zero waste
Reducing consumption, reusing and recycling to achieve zero waste and zero pollution

10. Zero carbon energy
Making buildings and manufacturing energy-efficient and supplying all energy with renewables